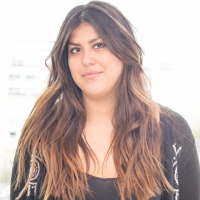 Giselle Morales
Blowdry / Styling Specialist, ApprenticeTues-Sat


change service provider
Before coming to Hair by David and Co, Giselle managed a blowdry bar and was the lead stylist and updo specialist for 4 years. She has worked for TIFF and other Toronto Fashion events. Giselle is currently furthering her education and is always up to date on hair and fashion trends.
Her blowdrys are talked about and admired for days.
Cancellation Policy
We value the time and scheduling needs of the stylists at Hair By David & Co. If you are having COVID-19 symptoms, we request that you do not come in for your appointment. At this time, we will waive our cancellation policy under these circumstances. We request 24 hours notice for a cancellation, otherwise a cancellation fee for half of the booked appointment will be levied. We reserve the right to refuse requests for corrections to haircuts or colours that are not notified to us within two weeks.
We will request a $100 deposit within 24 hours of any new guests colour appointment.
Receive free hair products through our referral program! https://my-referral.co/hair-by-david-and-co
Loved your service? Please let us know! http://quick-feedback.co/hair-by-david-and-co/review