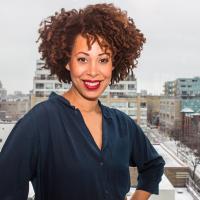 Stacey Ekubor
Senior Colourist / Junior Stylist Wed-Sun


change service provider
Stacey has been working in the industry for over 10 years, honing her talent for colour formulation and application. Stacey believes that hair is the one accessory we wear all the time and it should bring out the youthful beauty in all of us. As such, she likes to recreate the colour you experienced in your youth or mimic your most beautiful features, such as eye colour or freckles. For Stacey, closest to natural creating multidimension is the best.
Cancellation Policy
We value the time and scheduling needs of the stylists at Hair By David & Co. If you are having COVID-19 symptoms, we request that you do not come in for your appointment. At this time, we will waive our cancellation policy under these circumstances. We request 24 hours notice for a cancellation, otherwise a cancellation fee for half of the booked appointment will be levied. We reserve the right to refuse requests for corrections to haircuts or colours that are not notified to us within two weeks.
We will request a $100 deposit within 24 hours of any new guests colour appointment.
Receive free hair products through our referral program! https://my-referral.co/hair-by-david-and-co
Loved your service? Please let us know! http://quick-feedback.co/hair-by-david-and-co/review