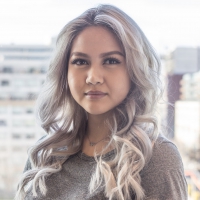 Jhade Castillo
Intermediate Stylist / Colourist Mon, Wed-Sat


change service provider
Jhade has worked professionally with hair since 2017, fulfilling a lifelong dream to pursue a career in the industry. She has a special interest in colour services, and values staying current with new trends and products. Jhade sees hair as dynamic; a work in progress, because while times and styles change, so do you. What's excites Jhade about working with hair is the opportunity to express creativity and flare. She receives much personal satisfaction helping people feel beautiful and feel more like themselves. Jhade sees what some might consider the most challenging of hair, as a puzzle just waiting to be solved. Jhade takes the time to meet with each client and understand the vision, she consults on what's possible and applies her expertise to articulate the dream into reality.
Cancellation Policy
We value the time and scheduling needs of the stylists at Hair By David & Co. If you are having COVID-19 symptoms, we request that you do not come in for your appointment. At this time, we will waive our cancellation policy under these circumstances. We request 24 hours notice for a cancellation, otherwise a cancellation fee for half of the booked appointment will be levied. We reserve the right to refuse requests for corrections to haircuts or colours that are not notified to us within two weeks.
We will request a $100 deposit within 24 hours of any new guests colour appointment.
Receive free hair products through our referral program! https://my-referral.co/hair-by-david-and-co
Loved your service? Please let us know! http://quick-feedback.co/hair-by-david-and-co/review